| | |
| --- | --- |
| Subaru Model: | My02 Subaru Impreza Pro-Drive Style STI Type UK |
| ISDC Forum Name: | ericsti |
The story off the Subaru Impreza Prodrive Type UK
---
Fittingly, just as Richard Burns lifted the 2001 World Rally Championship, Subaru announce the eagerly awaited Impreza WRX STI, and the even more sought after Prodrive Style version. The Car Enthusiast previewed the car in the 2001 Frankfurt Motor Show, but it turns out to be quite a bit more special than we could have hoped at that stage.
In January 2002, two versions went on sale in the UK – the WRX STI, and the special edition WRX STI Prodrive Style. The latter may not have a catchy name, but it is undoubtedly the pick of the two cars, with Prodrive-designed spoilers, grille and front bumpers as well as dark blue instruments with red needles inside.
To distinguish the cars from the large amount of 'grey' imports in the UK, Subaru designated these cars 'Type-UK'. This shows Subaru's disapproval of the grey import market at the time, though in reality just added to the choice subaru lovers as car enthusiasts had. All Type-UK cars include a category one alarm and immobiliser, as well as a satellite tracking system.
The STI (Subaru Tecnica International) could be recognised by the use of smoked glass projector beam headlamps, bigger bonnet air intakes and a single rear exhaust pipe – drainpipe size naturally. The headlights where the nicest interpretation of the bug eye new age design in my opinion. The wheels as standard where 17″ x 7.5 alloys in Gold, and the interior featured blue suede-effect seats and special trim. Four colours are available: WR Blue shown here, Blue Black Mica, Premium Silver Metallic and Pure White.
Top speed was quoted at 148mph, alongside a 0-60 mph time of 5.2 seconds. How ever it was unclear which version this referred to as there will be subtle differences in the weight and aerodynamics.
Now, that you know the cosmetic stuff, on with the heart of the car – the charismatic horizontally opposed four-cylinder engine, mated to a turbocharger and an air-cooled (with water spray!) intercooler. Subaru claim that 80% of the engine had been changed from the underrated WRX. The important changes where:
| | |
| --- | --- |
| | Larger air to air intercooler with driver-controlled water spray |
| | Sodium-filled exhaust valves |
| | Hollow intake valves |
| | Reinforced engine block and connecting rods |
| | Forged pistons |
| | Shimless valve lifters |
| | Variable valve timing (Subaru call it 'Active Valve Contol System') |
So, what did all this result in? A claimed 262bhp and 253lb.ft of torque that's what – a healthy increase over the regular WRX (215bhp, 215lb.ft). Maximum power was available at 6000rpm, with the peak torque figure coming up at 4000rpm. The dimensions of the engine remain unchanged (bore: 92mm, stroke: 75mm, compression ratio: 8.0:1).
The STI's transmission was also extensively reworked. Of most significance was the addition of the six-speed gearbox from the Japanese STI. This is a close ratio gearbox though, giving the driver plenty to do. The clutch was uprated to cope, and 'Suretrac' limited slip differentials where fitted to both ends of the car, giving the chassis even more ability in the wet.
It appeared that nothing had been forgotten! Even the steering rack was a little quicker than the WRX item. The suspension bushing was uprated all round, which nicely complements the use of inverted struts. As used on the Subaru WRC car, this was claimed to give superior geometry control and damping performance, especially during hard driving.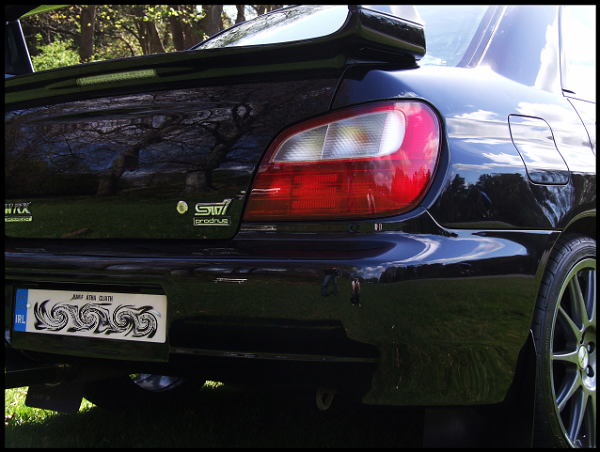 How long has the car been owned by you?
I got the Car in April 2008 after I sold my Version 6 STI Type-RA.
How was the car sourced?
I was looking for a Prodrive style after I seen another club members car (a JDM Sti Prodrive style). I liked the visual differences between the prodrive style bug and the Irish spec bug. I checked auto trader and found a couple of blue prodrive style cars. One a typeUK and the other a JDM. The fact that there where two market specs for the car got my attention as I hadn?t been aware of that until then. So with that in mind I started to dig a little deeper and discovered that only 1000 Prodrive style STI both JDM and Type UK where produced and that only 100 of these cars had been produced in Black. Knowing that it wasn?t an official limited edition car but that there where only 100 black Prodrive?s meant that the search was on as I wanted something a little different.
I checked Piston Heads and Auto Trader and there was one advertised on both sites. It had a few mods which weren?t me and needed a bit of work to the suspension, exhaust and wheels but the engine was spot on and the body was perfect. I rang the lad that owned it and arranged to travel to Bangor in Northern Ireland to view the car. I travelled up the next day in my girl friends fiesta and loved what I saw when I got there. She wasn?t perfect but she would be in time.
I agreed a price, paid a deposit and got a train the following day from Dublin to Bangor to collect the car.
Then the work began.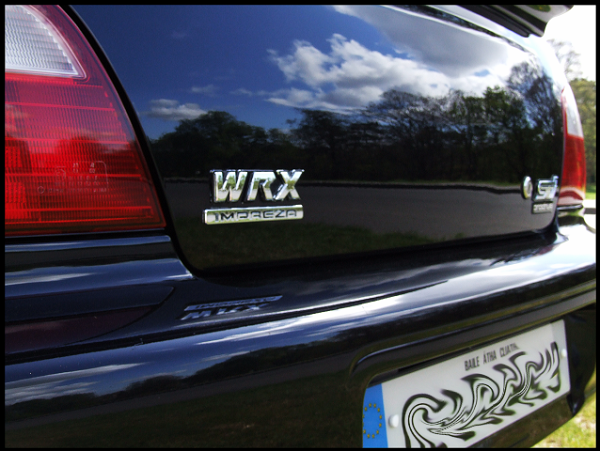 What modifications were done when you got it?
When I got her she had:
| | |
| --- | --- |
| | Front and rear strut brace |
| | Carbon Fibre STI blankers |
| | Carbon Fibre B pillars covers |
| | Prodrive 100 cell sports CAT |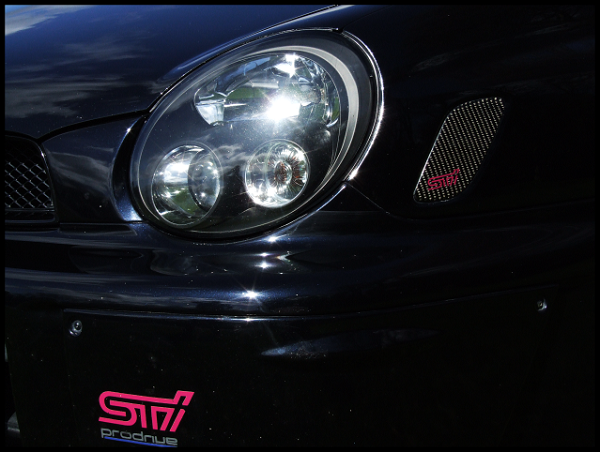 What makes your car so special to you?
I have only seen two other black Prodrive styles in Ireland since I got mine and both of them are in the north. The fact there where only 100 made in this colour means she is special.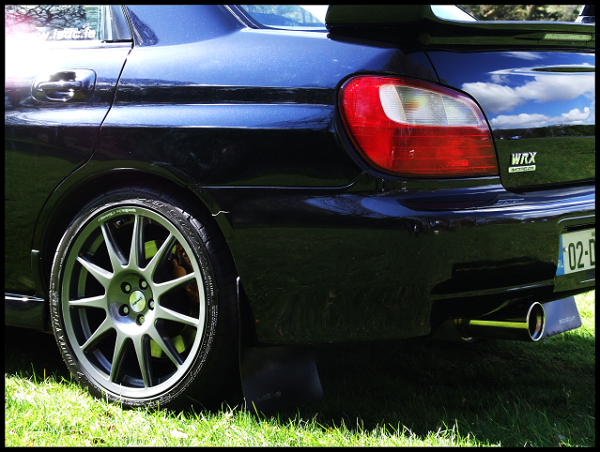 What does the club membership mean to you?
The ISDC is what makes Subaru ownership special. I am part of a community in this club that all have a common interest. If I need something I can usually find it here, whether it is information, parts or just a chat each month at the monthly meets. I have made a lot of friends since I joined the club. If I weren't in the club I would just own a Subaru. I'd much rather be a Subaru Owner in the Irish Subaru Drivers Club.
What changes are you going to make to your car?
I can't really think of to many other changes that I going to do. Any that I do want to do are mostly minor mods.
Here they are for what their worth.
| | |
| --- | --- |
| | Prodrive Diff Guard |
| | Prodrive Battery brace |
| | Prodrive oil cap |
| | Prodrive gear shift (Black) |
| | A good set of coil overs |
| | |
| --- | --- |
| | A type25 build |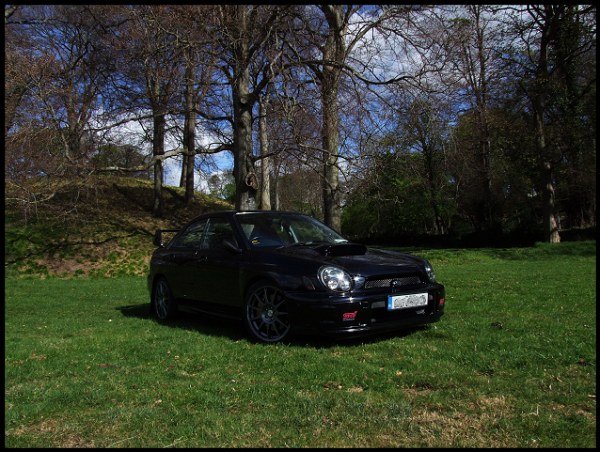 What are you seeking from your car?
First on the list above. A Prodrive Diff Guard.
When, if at all, will you replace your car?
When I win the lotto. Or if someone gives me an RB320 but until then I?ve no plans to replace her yet.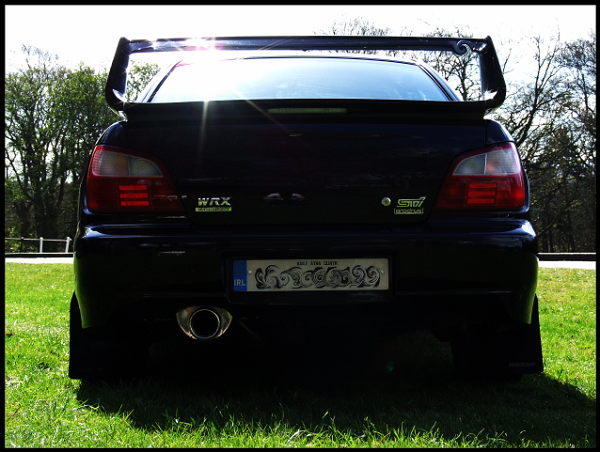 Is there anyone you would like to thank for this project?
Thanks to everyone that has help me all through the years since I've been a club member. You have all been great. Far to many to list.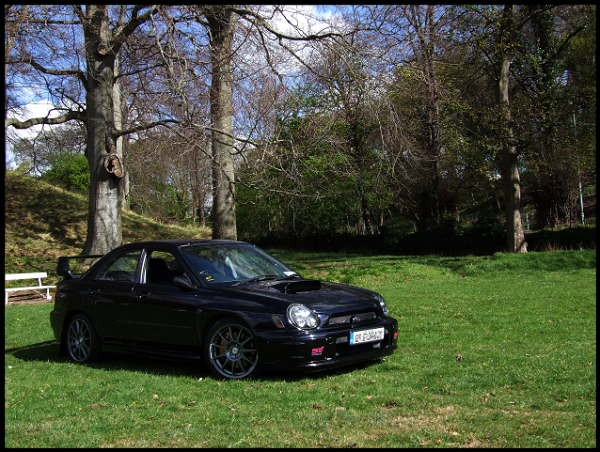 Car Specification
---
Engine
| | |
| --- | --- |
| | Walbro fuel pump |
| | 100 cell sports CAT |
| | Magnex centre Section |
| | Prodrive back box |
| | Blitz turbo timer |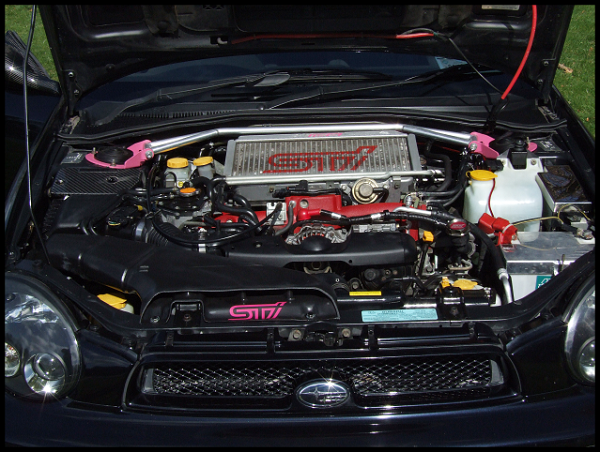 Exterior Styling
| | |
| --- | --- |
| | Carbon B pillar covers |
| | Carbon STi blankers |
| | Carbon WRC mirrors |
| | Black STI and Prodrive badges |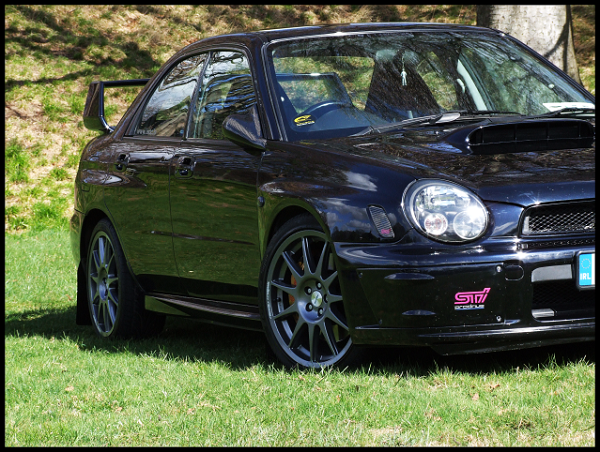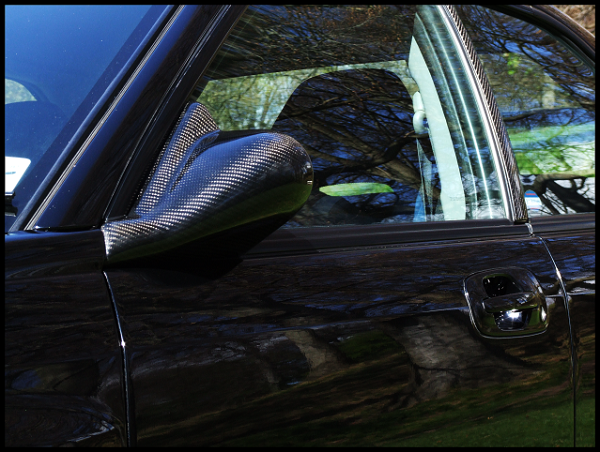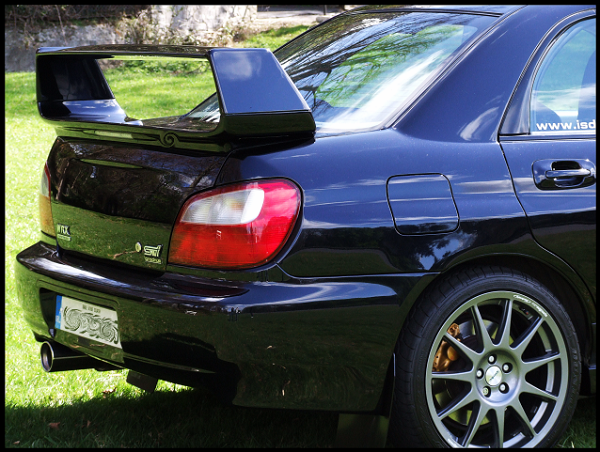 Interior Styling
| | |
| --- | --- |
| | Carbon interior dash and door card kit |
| | Prodrive iron on badges |
| | Black Prodrive Badge |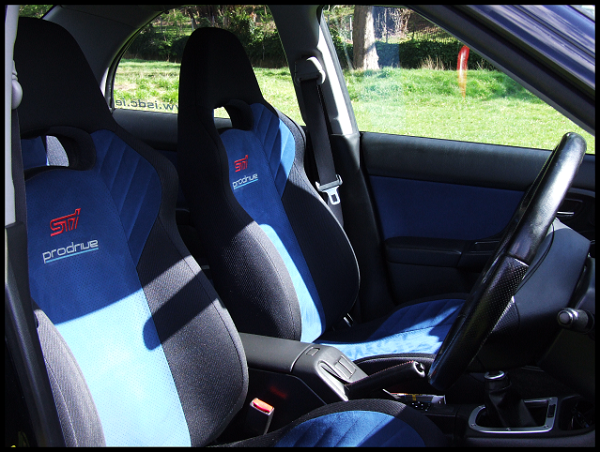 Suspension
| | |
| --- | --- |
| | KYB Shocks with RSR lowering Springs |
| | Strut Brace front and back |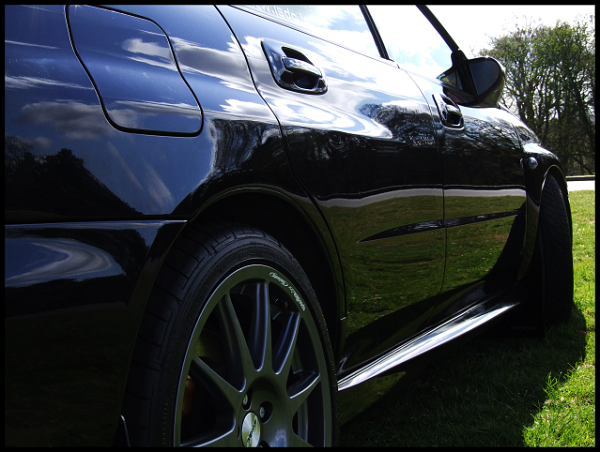 Brakes
| | |
| --- | --- |
| | Standard Brembos |
| | Black Diamond pads |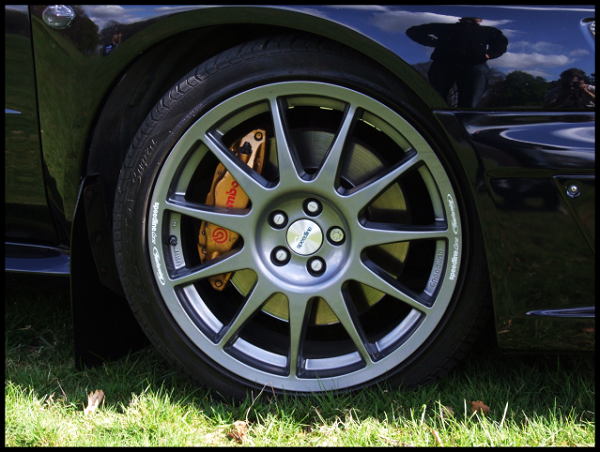 Wheels / Tyres
| | |
| --- | --- |
| | 8×18 Gun metal Speedline Corse Turinis |
| | Speedline Corse Turini wheel nuts |
| | Dunlop SP sport tyres |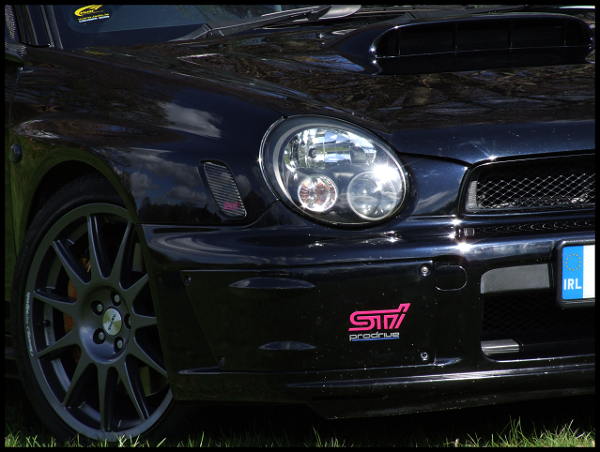 Current power figures are:
---
Pro-Drive ECU Mapped for 97octine putting out 320bhp
Dyno Graphs:
---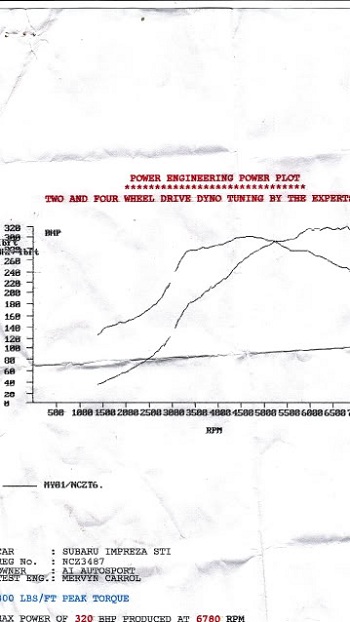 Words & Pictures… Keith555
* Visit our forum to make a comment about this featured car here
The Irish Subaru Drivers club celebrating 16 years
1999 – 2015