| | |
| --- | --- |
| Subaru Model: | MY04 Litchfield Type-25 |
| ISDC Forum Name: | Anton |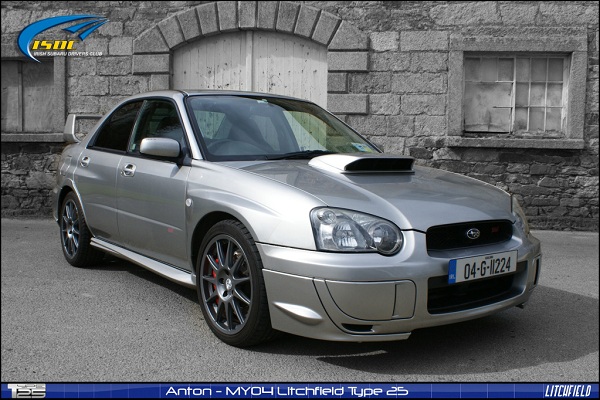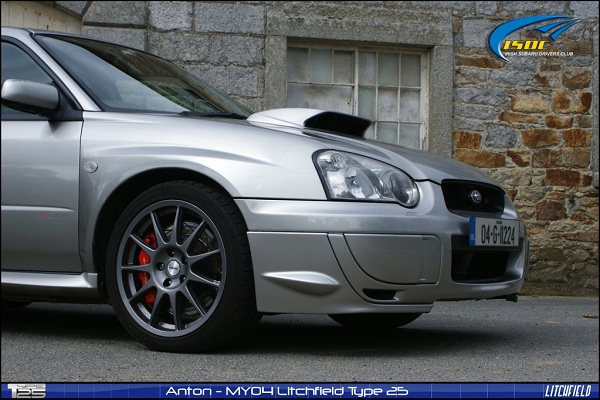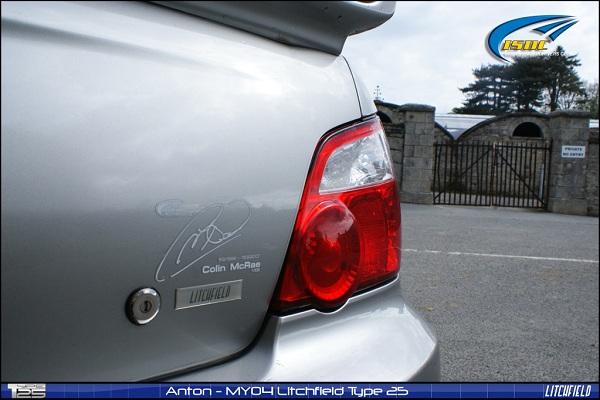 History of Litchfield Imports
---
Litchfield Imports has over 10 years experience trading in the best sports cars the world has to offer from Europe, America and Japan. Litchfield became known for selling the Japan-only Impreza Spec C which forms the basis of Subaru's Group N Rally cars. These are significantly different from their UK/EU counterparts with a massive list of upgrades and changes. They were able to import these cars as they were the only company to have passed the relevant EU type approval tests. The car quickly became popular with customers and critics.
When Subaru made a change to the equipment level of the Spec C at the end of 2003 which meant the temporary loss of creature comforts like electric windows and air-conditioning Litchfield decided to create a Subaru with the same performance but still with these features. The Type-25 was born after they imported one of the very first 2.5 Litre American STI Imprezas.
History of the Type-25
---
The Standard road version of the Type-25 is based on the new Japanese A-Line STI, a subtle and luxurious version of the standard STI. The original Type-25 was delivered to customers with the smaller WRX spoiler and alloy wheels so this new version should suit most new owners.
Testing and development started on the Type-25 in late 2003 and was designed to address some of the issues raised with the Subaru STI Spec C as an everyday car. At the time, it appeared that the Spec C Limited, which had the luxury items of air-conditioning and electric windows, was only a short production run of 1,000. They were faced with only being able to sell the standard Spec C which without these items would not appeal to as many daily users. The concept for the Type-25 was to build a car that would showcase their products and would be as fast as the Spec C but be liveable day to day. The Type-25 has won many fans from journalists, engineers and clients alike.
PowerStation and Litchfield Imports have always been happy to put their workmanship and products up for critical scrutiny; F1 drivers, motoring Journalists, 160mph+ convoys along European auto routes at the height of Summer heat waves, up and down mountains, endless laps of UK circuits and test facilities have proved durability and quality. They feel that the Type-25 could not have been tested harder or more thoroughly. It is a testament to the careful way these cars have been built and the quality of the components used. They have regularly put the Type-25 up against not only its direct rivals but also the best the performance car industry offers. The positive words of respected journalists and also from experienced engineers and designers for some of the world's largest performance car manufactures, have been fantastically rewarding.
The original Type-25 concept was a modest halo/showcase product with tiny sales expectations but has turned into a huge success with clients and a market place they had never even envisaged. These clients often already had a number of supercars in their collection including the likes of GT3s, Ferraris, Zonda and even McLarens. They would use these for special occasions or track days and a Cayenne or X5 for family duties. Many found the desire for something in between, a car that can be used daily, is practical, easy to live with and still a thrill to drive. The Type-25 fitted the bill perfectly.
The Type-25's demand has allowed them to invest in new state of the art machinery and larger premises to service and develop their cars to an even higher standard.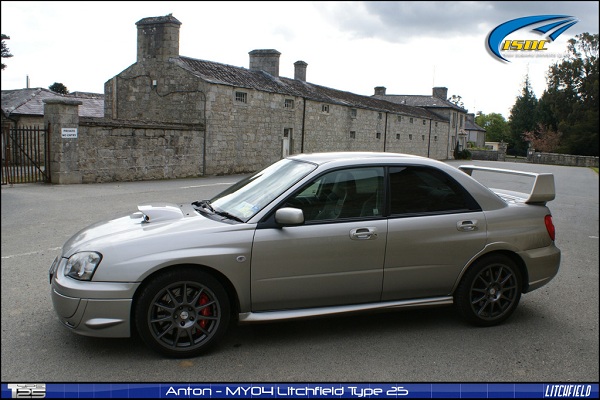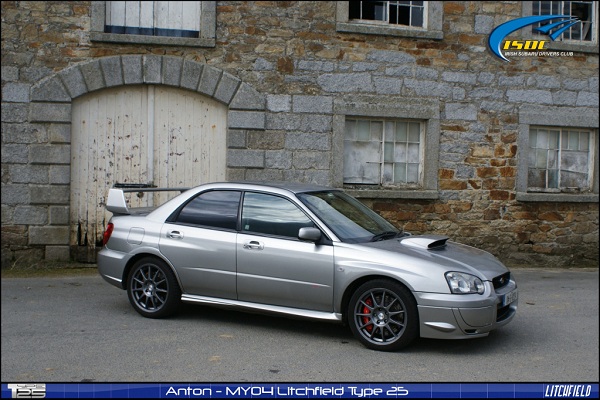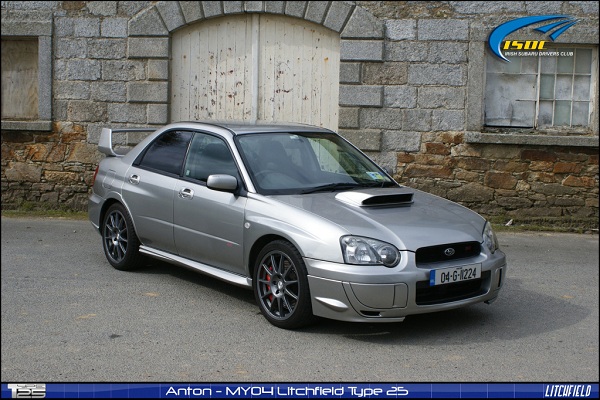 Driver Q&A
---
How long have you owned your Type-25 Litchfield?
I will have her five years this November.
Where did you originally source the car from?
A friend Warrtster, told me about the Type-25 and that there was one for sale.
Have you previously owned a Subaru?
I had a WRX STI before which I sold to my brother when I got the Type-25.
What made you decide to make the change from the STI to the Type-25?
Purely the power and Litchfield have a great reputation and so do Power Station.
How does the Type-25 compare to the STI in terms of handling & power?
There is simply no comparison. At first I didn't think there was much difference. It was only when I drove my old car after driving the Type-25 did I notice the difference.
What modifications, if any, have you made to the car since you bought it? What was the cause of your engine failure back in 2010? What route did you take with regards to the rebuild and who carried out the work?
I haven't made a single modification to the car until the rebuild. Iain (Iain Litchfield) wasn't 100% sure of the engine failure but he said it could have been a mixture of things. I didn't really press him as I just wanted to get my car back. I weighed up a few options and got some good advice as always from the ISDC forum and decided to ship her back to Litchfield and let them carry out the work.
What future plans have you for the car? When, if at all, will you replace your car?
I don't plan on selling the car and don't have any plans to do any modifications bar changing the disc's and pads as they are pretty worn!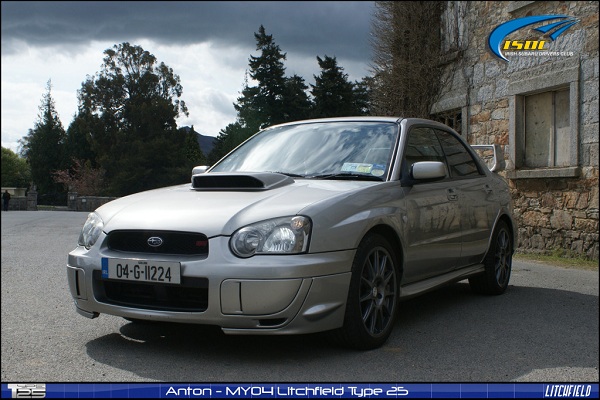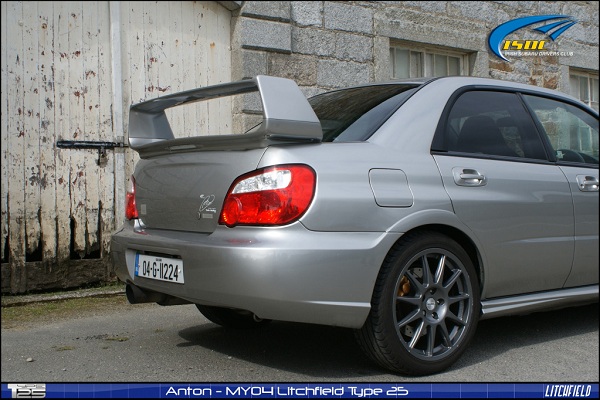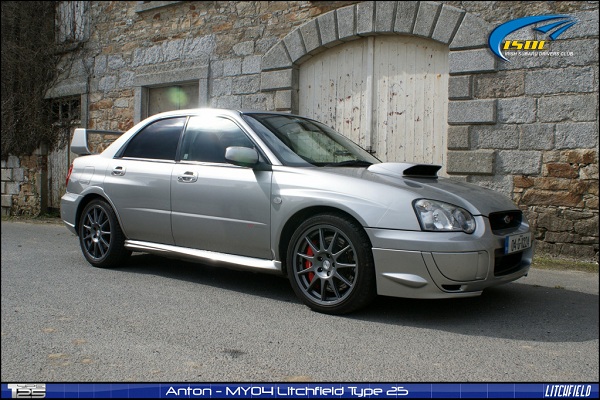 Car Specification
---
Engine – Post rebuild
| | |
| --- | --- |
| | Subaru Engine/Crank New Subaru MY08+ Block With Nitrided Crank |
| | EC Exedy Clutch |
| | LT25 Deck Litchfield Type-25 Close Deck Block Upgrade |
| | LM Rods Litchfield Type-25 Forged Fast Road Rods |
| | Milltek Downpipe |
| | Mahle 99.75mm High Silicon Pistons |
| | Main bearing set Subaru EJ20/25 Race1 |
| | Head gasket Subaru EJ25 101MM |
| | LM500-L70 Litchfield Turbo |
| | LM WATER KIT |
| | LM OIL LINES |
| | LM OIL LINE ADAPTER |
| | Baffle Plate |
| | LM TURBO HEAT SHIELD |
| | RCM 14mm WRC Head Stud Kit |
| | RCM Head Dowel For 14mm Stud Kit |
| | MOTUL SPORT 5W50 1 |
Performance
Road mapped after re-build – experience and data logs show the car is probably around 440bhp+/500lbft
Dyno graph from 2007…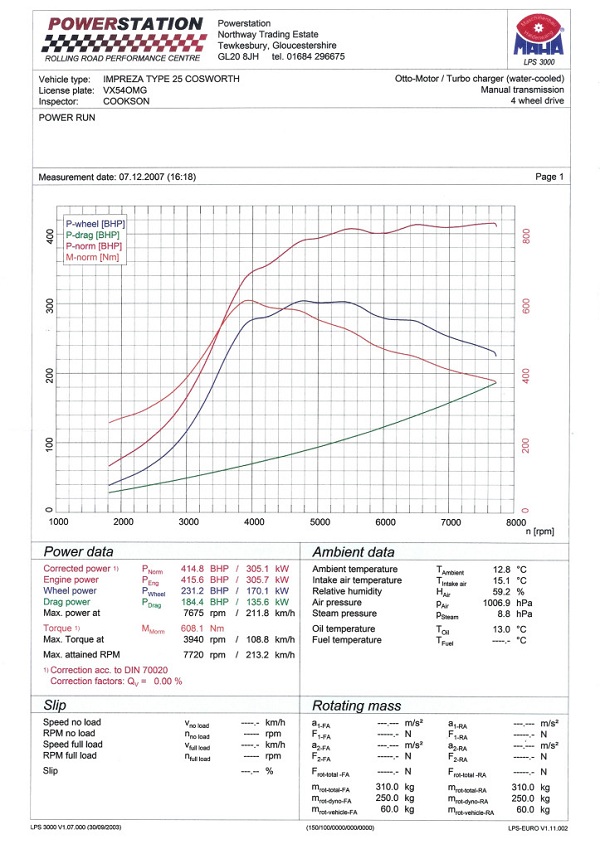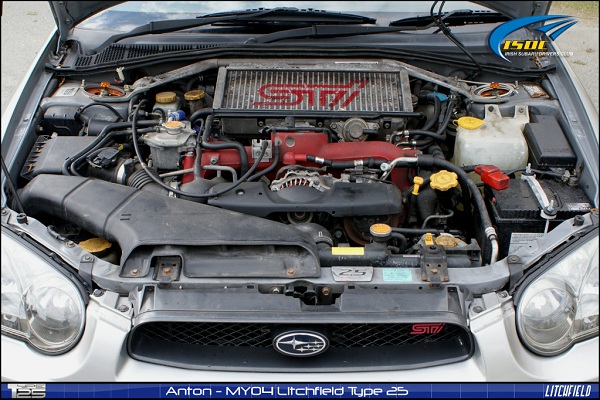 Interior
| | |
| --- | --- |
| | Custom leather interior |
| | Type-25 logo in seat backs |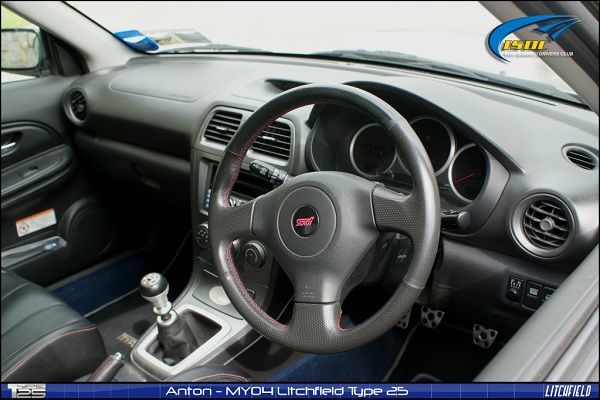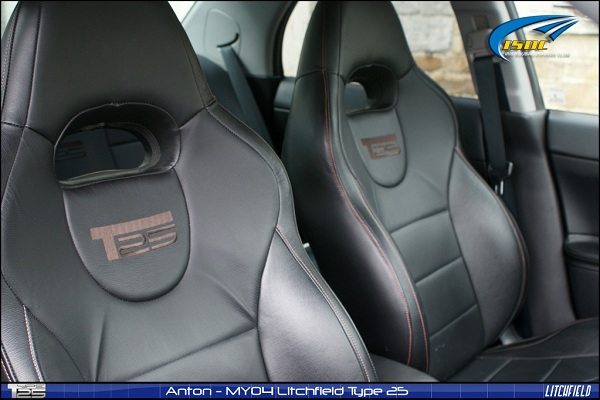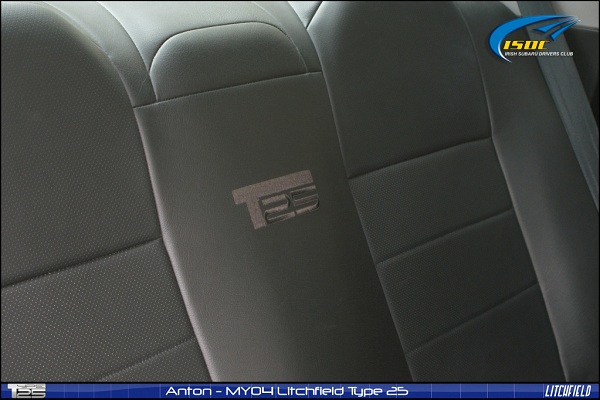 Exterior
Standard STI appearance bar Type 25 & Litchfield badge on boot lid. Front splitter removed due to constantly being damaged on our wonderful roads.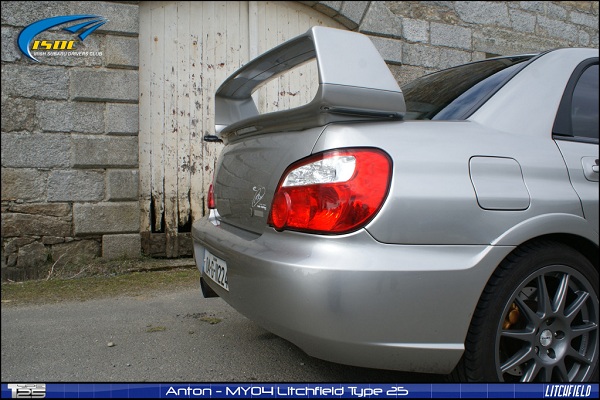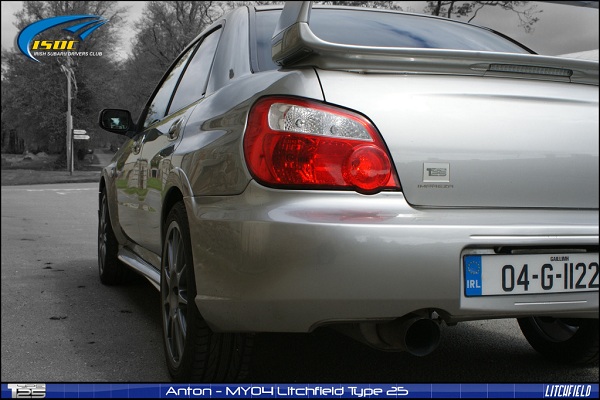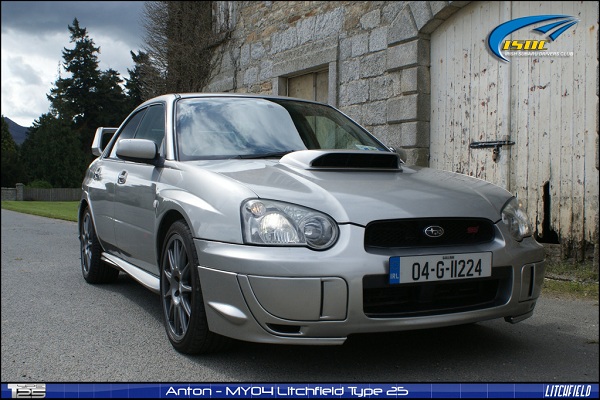 Brakes
| | |
| --- | --- |
| | Red 6 pot Porsche Calipers |
| | 2 pot Brembo Rr Calipers |
| | Unique lightweight bells and brackets |
| | AP Racing 360mm grooved Discs |
| | Braided lines |
| | Pagid uprated Brake pads |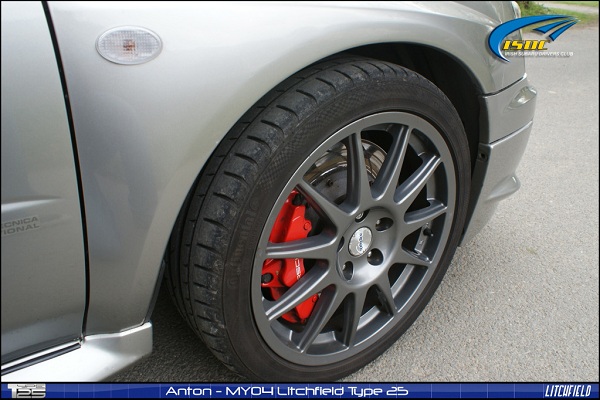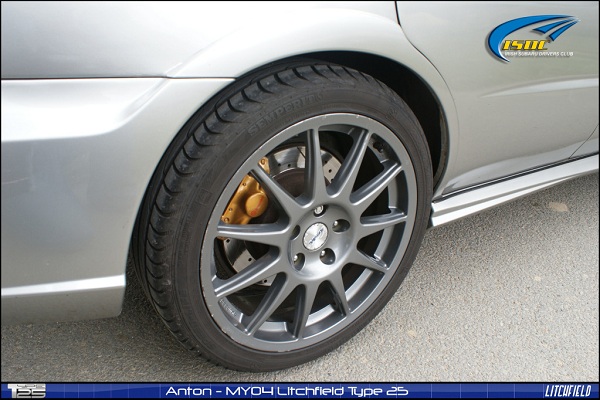 Wheels/Tyres
| | |
| --- | --- |
| | 18″ Speedline Turini Alloy Wheels in Antracite |
| | Lightweight Flow-Form Construction |
| | 235/40ZR18 95Y Conti Sport Contact 3 |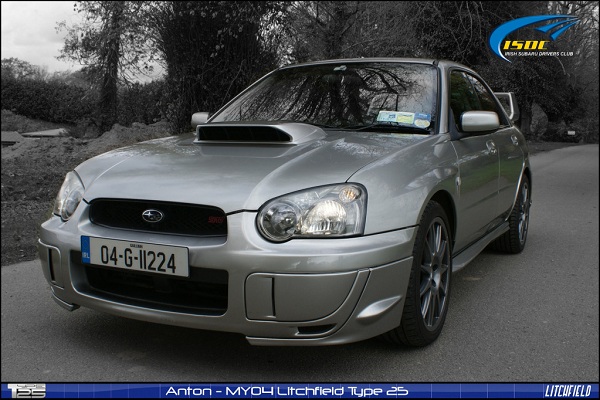 Suspension
| | |
| --- | --- |
| | AST suspension (12 way adjustable) |
| | Whiteline front & rear ARB |
| | Whiteline Anti- Lift Kit |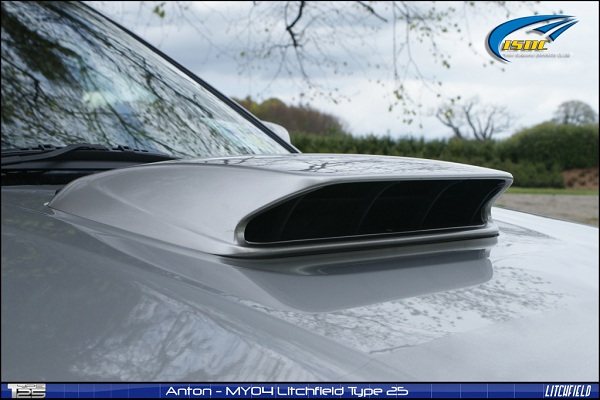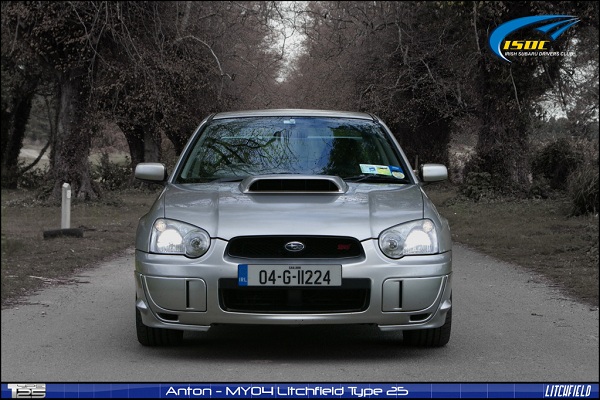 Words & Pictures… Jamie Flett
* Visit our forum to make a comment about this featured car here
The Irish Subaru Drivers club celebrating 16 years
1999 – 2015